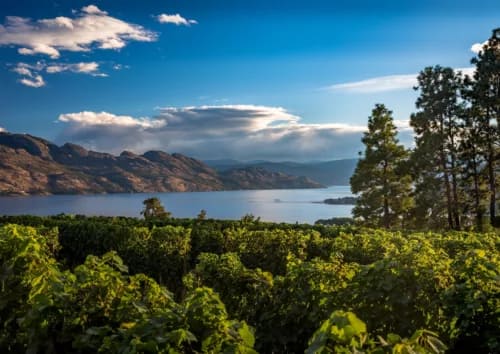 Are you a Canadian wine enthusiast looking to explore new and exciting wineries outside of Ontario? Look no further than Kelowna. Located in the south of Canada's British Columbia Province, Kelowna wineries have deep-rooted traditions and rich history.
As the heart of the Okanagan Valley, Kelowna is home to an abundance of lush pine forests, pristine lakes, and gorgeous vineyards and orchards. Nestled between mountain ranges, this prominent wine region boasts some of the best wineries in Canada, offering delicious wines and stunning views.
In this article, we will take a closer look at the best Kelowna wineries and wine tours they offer, so you can plan your next wine-tasting adventure with ease.
Lake Okanagan Vineyards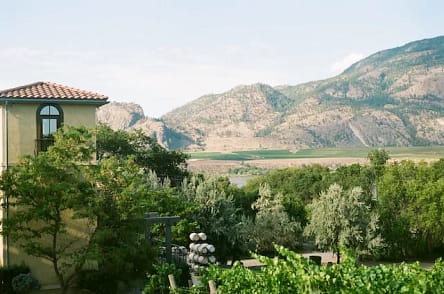 There are many winery communities in the Okanagan Valley. If you think about wine country, you may imagine an inland place, like France or Spain. Some people don't realize there's a very good grapevine situation right at home in Okanagan such as Kelowna wineries.
The vineyards sit on high benches on both sides of Lake Okanagan, which provides a moderating effect on the climate. The area is suited to cool-climate grape varieties like Pinot Noir, Riesling, Gewurztraminer, and Chardonnay. East Kelowna and the south are some of the best sites for Riesling grapes, which produce kiwi, lime, and leesy richness in the glass. Warm summer days in the region with temperature rising up to 40 degrees and cool nights are the great factor that allows grapes to maintain its natural acidity.
Best Wineries in Kelowna
1. Mission Hill Family Estate Winery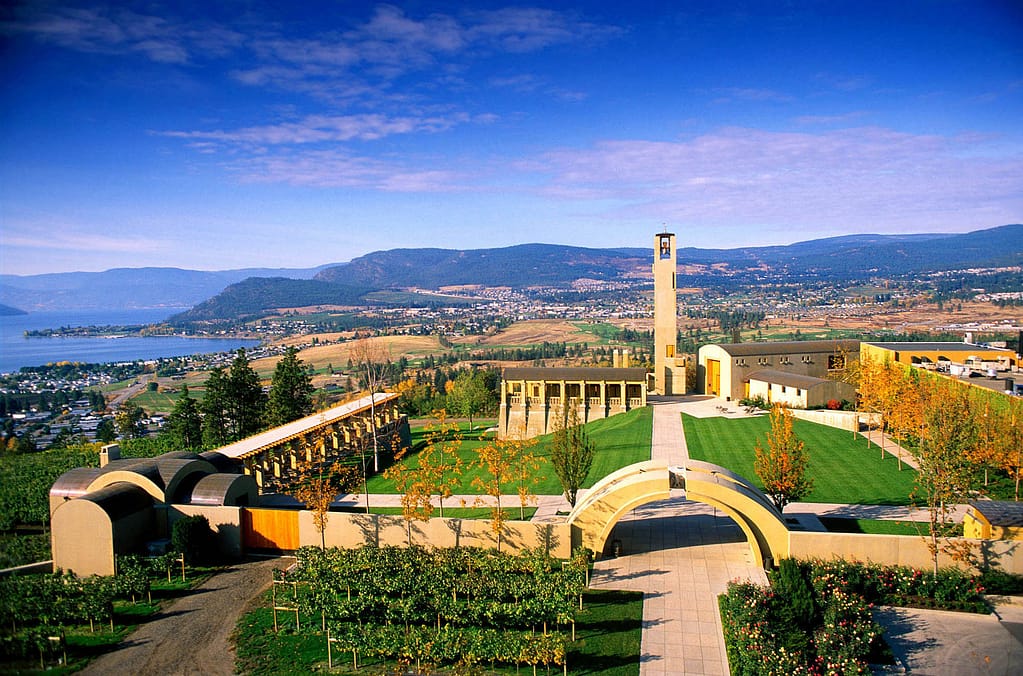 Mission Hill Family Estate Winery is easily one of the best wineries in Kelowna. Located on top of a hill overlooking Okanagan Lake, it's known throughout the region as one of the most stunning spots. Take in some breathtaking views from the patio or book an exclusive behind-the-scenes wine tour to learn more about their entire winemaking process.
Offering a wide variety of white wines, reds and rose wines, there is something for everyone here. Sample the best wines at their tasting room or participate in one of their Vineyard Activity experiences such as scavenger hunts and classic car tours for a truly unforgettable experience.
Wine tasting at Mission Hill
Mission Hill winery offers guided wine tastings with thoughtful food pairings, showcasing their expertly crafted award-winning wines and the unique influence of the Okanagan Valley's climate and terroir. Due to limited availability reservations are recommended, and tastings are exclusively for guests 19 and over. Daily tastings are available from 11 am to 6 pm, providing visitors with an exceptional and unforgettable wine tasting experience.
Terrace restaurant reservation (open from May 6 till October)
2. CedarCreek Estate Winery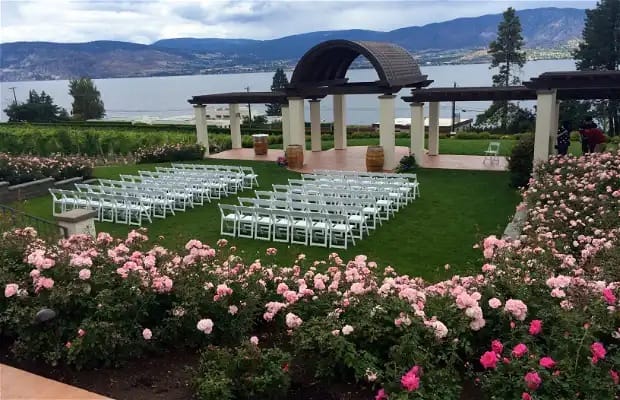 CedarCreek Estate Winery is another of Kelowna's best wineries renowned for its award-winning collection of whites, reds, rosés, and ports. Their impressive 30,000 square foot facility boasts a tasting room and outdoor patio with breathtaking views over the valley and lake.
Customers can opt to partake in one of their flight tastings or join a cellar tour to learn more about their winemaking process. Be sure to stay around for a delicious Wine & Cheese Pairing experience that promises to tantalize your taste buds!
Wine tasting at CedarCreek
Winery offers a range of wine tasting experiences, vineyard tours, and food pairings in a stone-faced, contemporary farmhouse located in North Okanagan Valley. Visitors can choose from four tasting experiences, including Sunset Hour, Farmed and Foraged, Silt & Stone, and North to South Tour. Each showcasing the winery's organic practices and award-winning wines.
Additionally, the Aspect House Experiences offer an elevated seated or tour experience, featuring specially curated wines and handcrafted food pairings, exclusively for Aspect Club Members.
The winery is open daily from 11 am to 6 pm, and reservations can be made through the provided details on the website.
3. Quails' Gate Winery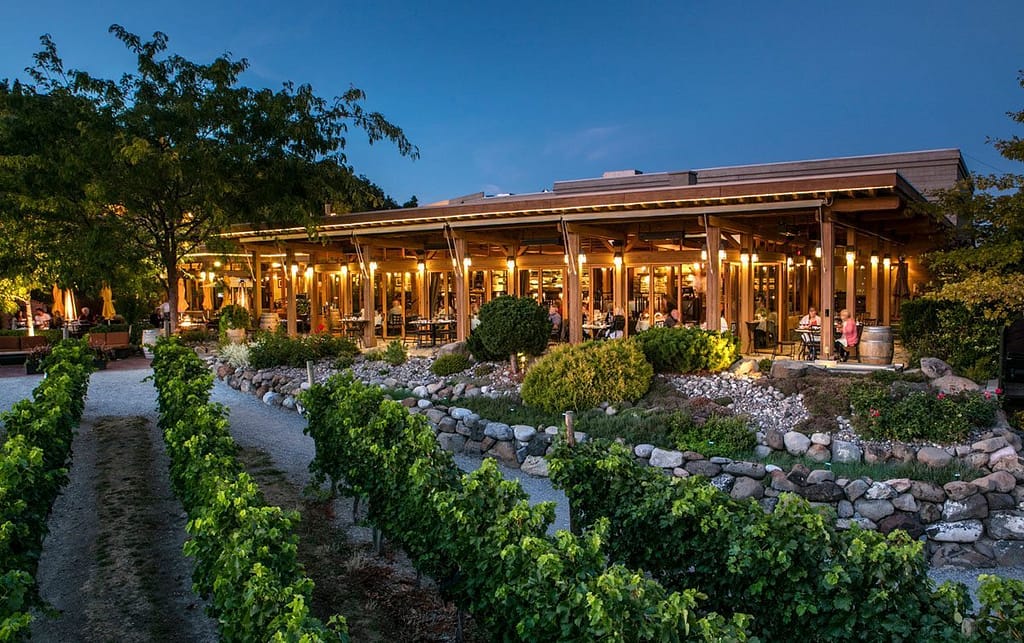 Quails' Gate Winery is a popular option for wine aficionados visiting Kelowna. Located near the Okanagan Lake, this winery offers plenty of outdoor space to enjoy its bordeaux-style wines with sweeping views of the valley. Offering food and wine pairing experiences as well as tours of their modern facility, they are sure to make every visit an unforgettable one.
Their Old Vines Restaurant provides guests with an extensive menu of freshly prepared local ingredients prepared in modern style.
Wine tasting at Quails' Gate
Quails' Gate Winery offers daily wine tastings and retail sales from 11:00 AM to 6:00 PM, with reservations highly recommended during peak season. Guests can choose from a selection of estate and reserve wines, with tastings available for up to four guests. The winery also offers premium experiences. These include a comparative tasting of estate and reserve Chardonnay, a wine and cheese pairing, a dessert wine and chocolate pairing, and a vineyard tour and tasting.
Tasting fees vary based on the experience, with some options being complimentary for wine club members. Exclusive to wine club members is the yacht tasting experience, which takes place on select days from May to September. It features premium wine tastings and canapés aboard a 40′ yacht on Okanagan Lake.
4. Summerhill Pyramid Winery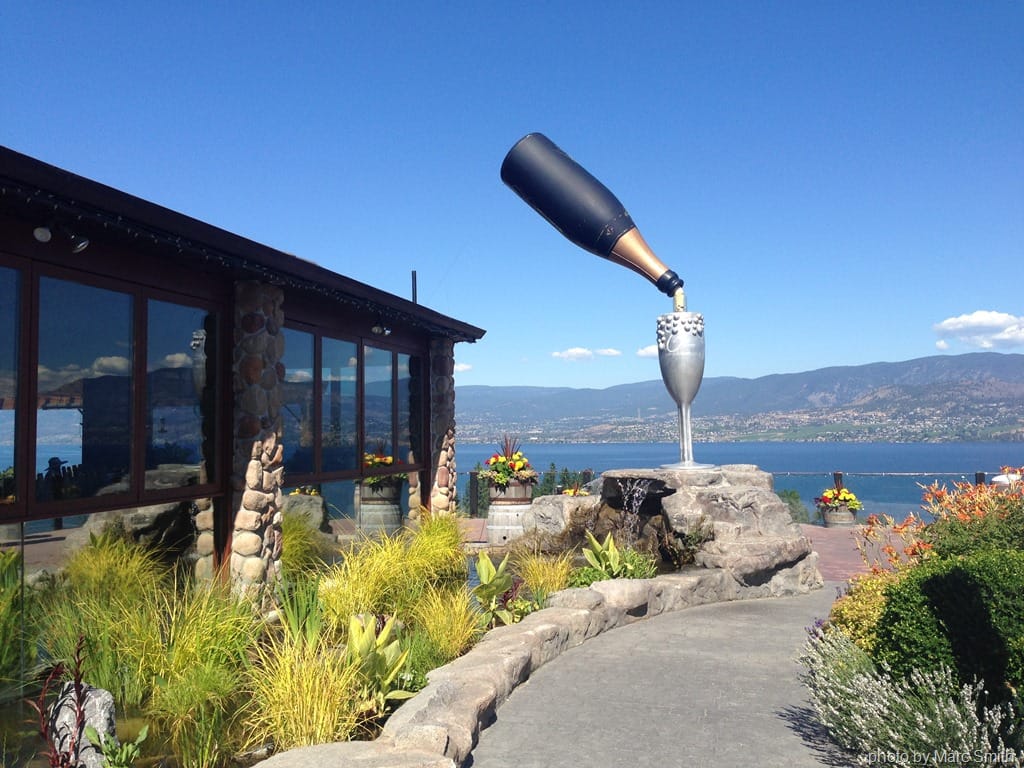 Summerhill Pyramid Winery, located above Kelowna's Lakeshore Road, is a fully organic and biodynamic winery founded by New York real estate developer Stephen Cipes in 1986. Cipes aims to create some of the world's best sparkling wines and has won numerous awards for his efforts.
The winery's standout feature is a pyramid, modeled after Egypt's original pyramids, that Cipes believes enhances and preserves the quality of the wines stored inside. While the exact science behind this is unknown, winemaker Eric von Krosigk has observed subtle differences between wines aged in the pyramid and those aged elsewhere.
Wine tasting at Summerhill Pyramid
They offer wine tastings every day from 10 am to 7 pm in their wine shop, and you don't need to make a reservation to taste their delicious organic wine. However, if you want to learn more about their winemaking process, you can book the Pyramid Experience Tour for $20, which includes grape growing education, sparkling wine method education, the pyramid experience education, and tasting. For a more immersive experience, you can also try their Sensory Sit Down Tasting, which costs $45 per person, and must be reserved in advance by calling them. Admission to the winery is free, and individual pyramid visits are also free of charge.
Pyramid Experience Tour reservation
5. Gray Monk Estate Winery
Gray Monk Estate is a winery located in the Okanagan Valley, with 75 acres of vineyards overlooking Okanagan Lake. They produce some of the world's finest wines using premium grapes sourced from the region. The winery offers seated tastings with panoramic views of the vineyard and lake, featuring their renowned Estate series and premium Odyssey collection. Walk-in stand-up tastings are also available for guests looking to taste fresh vintages. All experiences are kid-friendly.
Wine tasting at Gray Monk
Gray Monk Winery offers a variety of wine tasting experiences, with prices and discounts to suit all budgets. Guests can choose from seated tastings in the Estate Room, with prices ranging from $20 to $30 per person, depending on the collection of wines tasted. The newest addition to their experience lineup is the Sparkle + Savour Experience, priced at $36 per person plus tax. For those looking for a quick tasting, stand-up tastings are available in the wineshop for $10 per person. All experiences are kid-friendly and socially distant. Monk's Cellar Club members receive a 15% discount on tasting fees and add-ons.
6. Volcanic Hills Estate Winery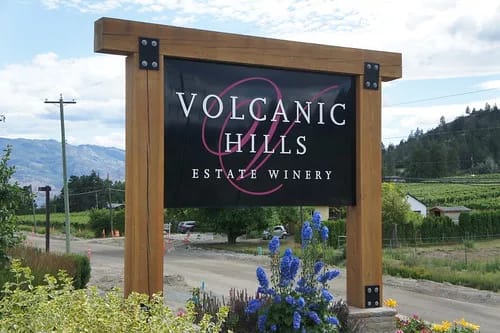 Mount Boucherie Winery in West Kelowna, Okanagan Valley, sustainably grows self-rooted grapes to produce minimal intervention wines that showcase the region's terroir. Their varietals include Gamay, Gewurztraminer, Zwiegelt, Pinot Noir, Pinot Gris, Marichel Foch, Riesling, Merlot, Cabernet Sauvignon, Cabernet Franc, Viognier, and Chardonnay. They have a 65-acre estate vineyard on the SE slope of Mount Boucherie, a dormant volcano, and work with long-time growers in Oliver, Osoyoos, and Okanagan Falls.
Wine tasting at Volcanic Hills
Volcanic Hills Winery invites you to experience their signature wines in their tasting room. A flight of five wines awaits, hosted in their wine shop with complimentary snack pairings, including East Indian Matri, Siriacha Cashews, and Dark Chocolate. Reservations are not required, but recommended for minimal wait times, while wine club members can enjoy a complimentary experience with a discount code. Discover the eruption of flavours in their wines and explore the taste of the Okanagan terroir, rooted in the valley's deep family history. Non-drinkers and minors are welcome to join without a booking, and refunds are available up to 24 hours before your booking.
Wine Tasting Experiences in Kelowna Wineries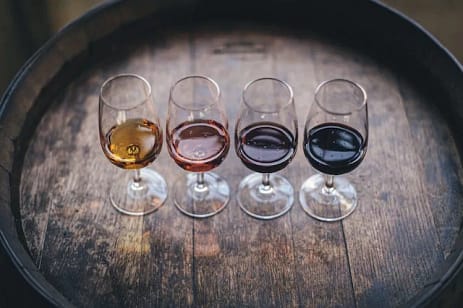 Wine tasting is an art that involves using our senses to appreciate the different flavours, aromas, and characteristics of a wine. In Kelowna, you'll have the chance to taste a wide range of incredible wines produced from locally grown grapes, and you'll be blown away by the variety and quality of the wine on offer.
You'll have the opportunity to engage with the winemakers and learn about the different techniques used in making the wines. You'll discover the process of grape selection, fermentation, aging, and bottling, giving you a deeper appreciation of the wine's unique qualities.
Wine tastings in Kelowna is a must-do activity for any wine lover. It's an experience that will delight your senses, provide an opportunity to learn more about the wine-making process, and give you a chance to immerse yourself in the beauty of the region.
Guided Wine Tours
If you are a wine enthusiast, there is no better way to experience the rich variety of incredible wines than on a guided tour through the vibrant vine-yards of Kelowna. Several businesses offer wine tours in Kelowna. The average cost of a wine tour is approximately $150, and you can find cheap wine tours in Kelowna if you travel midweek, as some companies offer discounts.
List of Kelowna Wine Tours with Online Reservation
Typically, with a wine tasting tour, you get to choose the area you want to explore and visit several different local wineries. The common routes are: the East Kelowna wineries with stunning views of Okanagan Lake, or the westside wine trail around Mount & Boucherie winery, known for their volcanic soil.
A wine tasting tour is an all-inclusive experience with transportation and tasting fees included. You will be picked up from your Kelowna or West Kelowna hotel, home or B&B. During the tour, you will be accompanied by a local guide who will provide live commentary on board, sharing their knowledge and insights into the history and culture of the region. You will taste a variety of amazing wines and learn about the wine-making process from the experts.
Organic Wines Of Kelowna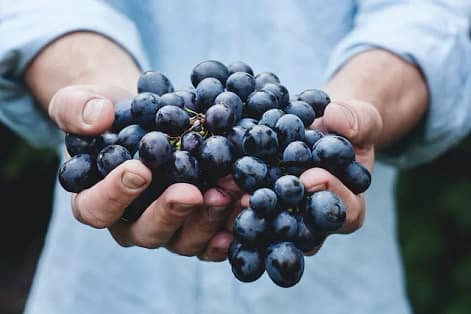 Organic viticulture and winemaking is nothing new to the region, with some producers like Summerhill Pyramid Winery and Beaumont Family Estate producing organic wines for more than two decades. However, with the recent transition of producers like Mission Hill Family Estate Winery and CedarCreek Estate Winery, the number of organic vineyards has grown significantly.
The journey to organic certification is complex, highly regulated, and takes at least three years to complete. Ensuring the health of the soil and surrounding environment, one of the primary benefits for the land and consumers alike is the prohibited use of any artificial chemical fertilizers, pesticides, fungicides, or herbicides.
For the team at CedarCreek, having their vineyards and winemaking process certified organic was just the beginning, influencing their overall philosophy regarding their onsite ecosystem. They now include chickens, bees, worms, and cover crops, to name a few, to ensure they're being good stewards of the land and preserving the natural environment for future generations.
If you're looking for organic local wines, there are many great options in the Okanagan Valley. Such include Beaumont Family Estate, CedarCreek Estate Winery, Kalala Organic Estate Winery, Mission Hill Family Estate, Off the Grid Organic Winery, Rollingdale Winery, Sperling Vineyards, and Summerhill Pyramid Winery. So, whether you're a wine connoisseur or just someone who wants to make a difference, consider trying an organic wine from the Okanagan Valley and taste the difference for yourself.
Visit Kelowna Wineries on Foot
It's also possible to stroll through Kelowna wineries. It's advisable to visit Downtown Wine and Brewing Zones, where everything is closer but there are no mountains. During wine tours of Downtown Kelowna, you may visit Sand Hill Estate Winery, Tree Brewing and Calona Vineyards. There's also a possibility of walking to West Kelowna where a few wineries there. This includes the Beaumont family, Little Straw Vineyards, Mount Boucherie Vineyards and Volcanic Hills.
Conclusion
Kelowna is truly a wine lover's paradise, with its breathtaking scenery, ideal climate, and exceptional wineries. From small family-owned vineyards to larger, internationally acclaimed wineries, Kelowna has something for every wine enthusiast. Whether you're a seasoned wine connoisseur or a novice looking to expand your palate, the wineries in Kelowna are sure to impress. So pack your bags, grab a glass, and head to Kelowna to experience some of the best wineries in Canada.
If you are looking for a place to stay during your visit to Kelowna, check our properties with fantastic lake views of Okanagan.
Frequently Asked Questions (F.A.Q.)
What is the number one winery in Kelowna?
Mission Hill winery. This vineyard is located at 1730 Mission Hill Road on Okanagan Lakes. The West Kelowna's winery boasts intricate architecture with archways and lakeside vineyard gardens.
How many wineries are there in Kelowna?
With more than 40 vineyards you can enjoy enchanting scenery while travelling through farms minutes away from downtown Kelowna.
How much it costs to go on a wine tour in Kelowna?
In Kelowna several businesses offer wine tours. This list provides suggestions on the wine regions within Kelowna. The costs of these wine tours in Kelowna range from $175 to $200, although it is possible to book a few inexpensive wine tours in Kelowna if you visit during the weekend.
How much is the average wine tasting in Kelowna?
The average tasting fee is around $20 and the range is between $10 to $50 per person based on the experience.
Are Kelowna wineries open year round?
Most Kelowna wineries are open year-round, with over 40 local vineyards offering tastings during the winter months. However, some wineries may require appointments to visit all year round, and the wineries visited on guided wine tours may vary depending on the time of year. It's always a good idea to check the hours of operation and the availability of tours and tastings before planning your visit.
What are the iconic wineries of the Okanagan?
Amazing wineries include Mission Hill Family Estate Winery, Quails' Gate Estate Winery, 50th Parallel Estate, CedarCreek Estate Winery, and Kismet Estate Winery,
What is the oldest winery in Kelowna?
Calona Vineyards, established in 1932, is Kelowna's oldest winery and a pioneer in the BC wine industry. Award-winning wines prove Okanagan Valley's potential for international fine wine production, led by Calona's commitment to professionalism and craftsmanship.
You might also like the following articles