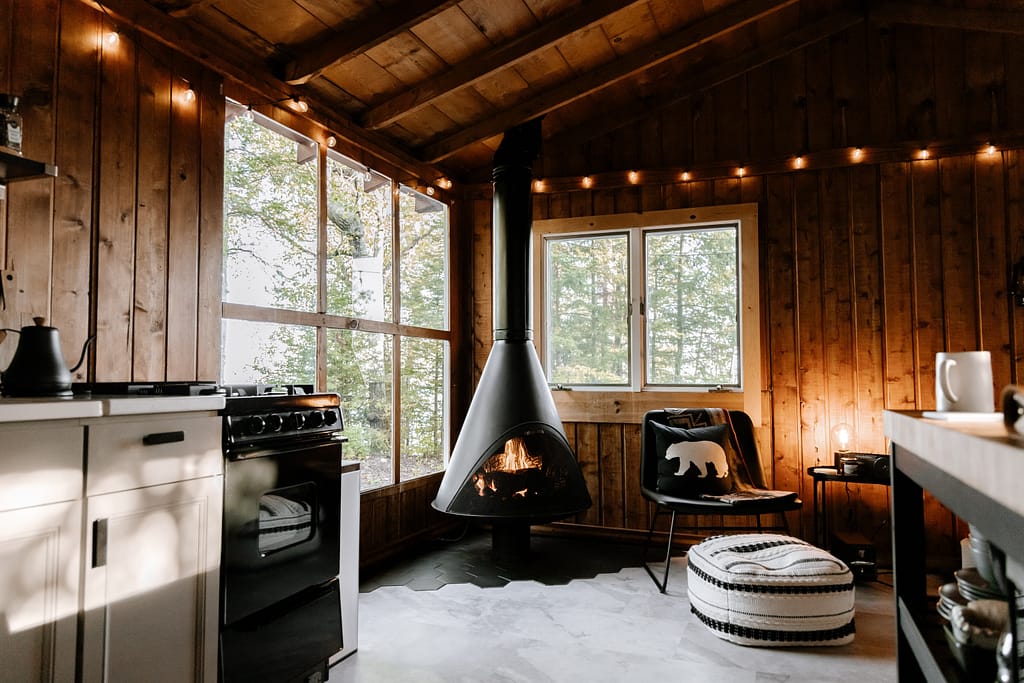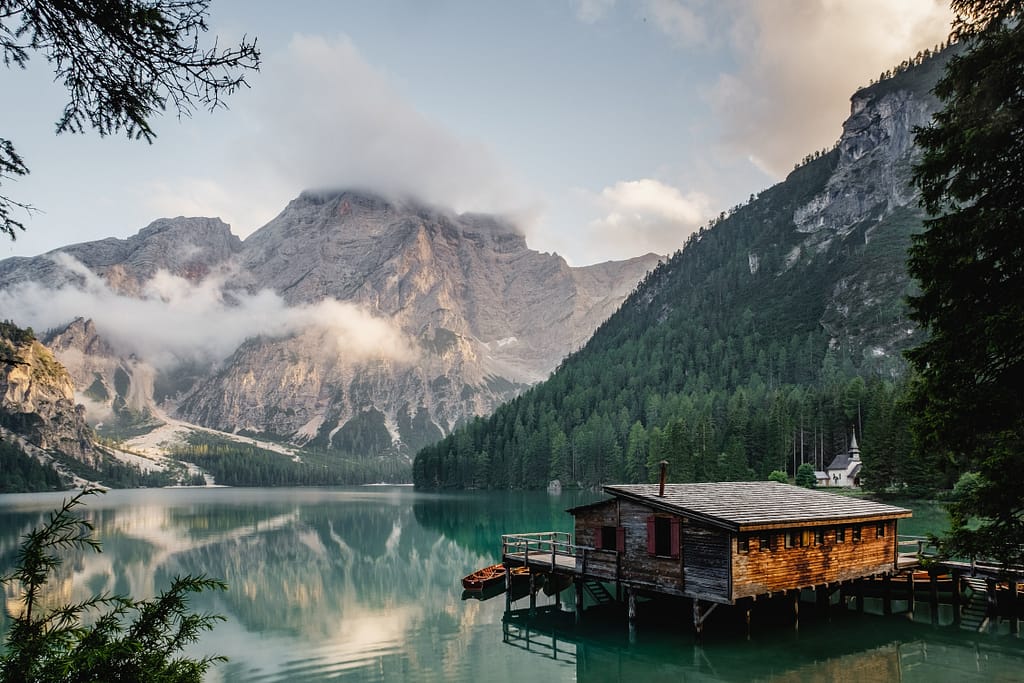 If you're dreaming of a peaceful escape to the beautiful Okanagan Valley, renting a cabin is the perfect way to experience the natural beauty and tranquility this region has to offer. Our handpicked collection of cabins will provide you with a secluded and cozy place to stay during your next vacation. Whether you're seeking a romantic getaway or an adventurous retreat, we have options that cater to your preferences and budget.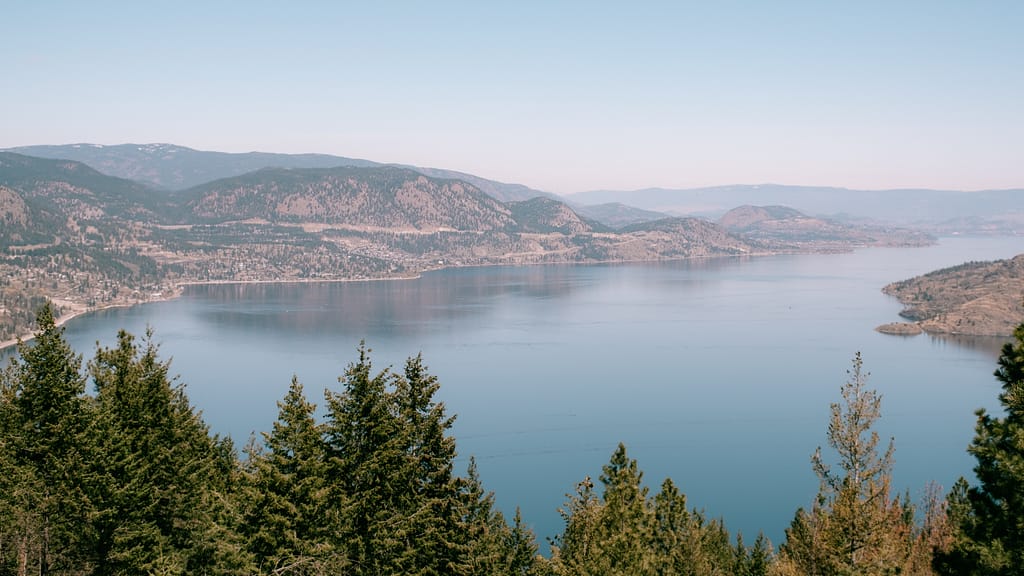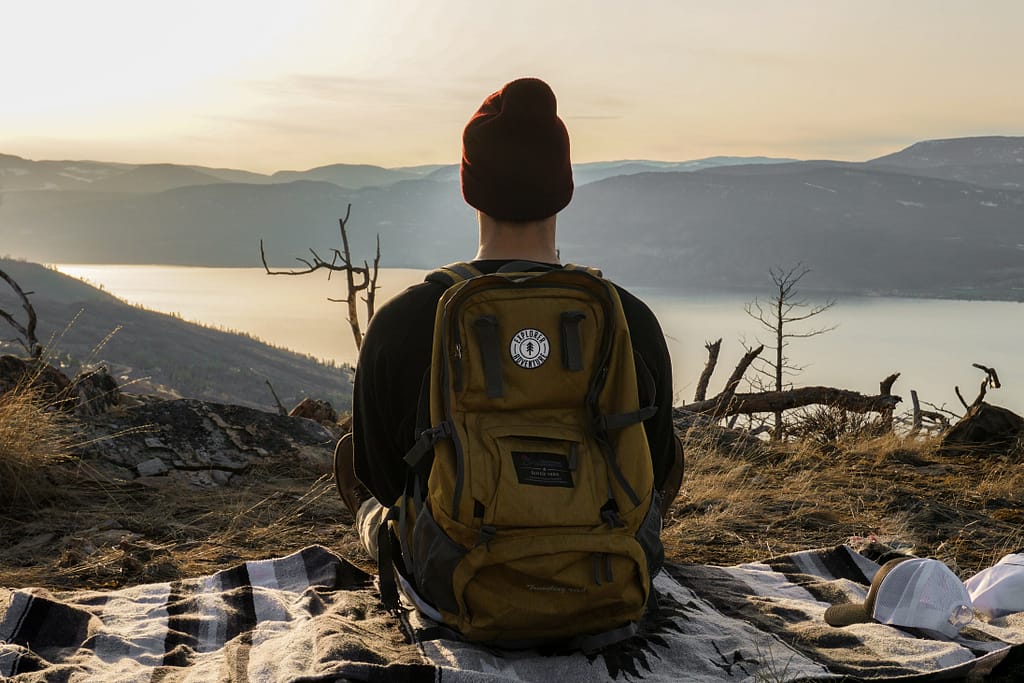 The Beauty Of The Okanagan Lake
The Okanagan region is renowned for its breathtaking natural beauty. Surrounded by mountains, lakes, and forests, this destination offers spectacular views throughout the year. During the summer months, visitors can enjoy hiking, biking, camping or swimming in one of the many pristine lakes. In the fall and winter seasons, enjoy breathtaking views of colorful foliage or snow-capped peaks while skiing or snowboarding in one of many nearby resorts. Whether you're a nature enthusiast, an adventurer or simply seeking peace and quiet from urban life, the Okanagan lake has something to offer everyone.
The Benefits of a Cabin Rental For Your Vacation
A cabin rental or vacation home can be the perfect choice for your next vacation, especially if you are looking for a peaceful and secluded getaway. Unlike hotels, cabin rentals offer seclusion and privacy, giving you the chance to fully unwind and relax. With most cabin rentals located in natural surroundings, you can also enjoy stunning views while being surrounded by nature. Cabins are often equipped with kitchen facilities allowing you to cook your meals instead of relying on restaurants or fast food options while on vacation. Additionally, cabin rentals tend to be more affordable than traditional hotel accommodations, making them a great choice for budget-conscious travellers.
Our Top Picks for the Kelowna Cabin Rentals
If you're looking for a cozy and private cabin rental in the Okanagan, you've come to the right place. Our handpicked collection offers a variety of best cabins to suit your needs and preferences. No matter what type of adventure you have in mind for your next vacation, we have the perfect Kelowna cabin rentals for you.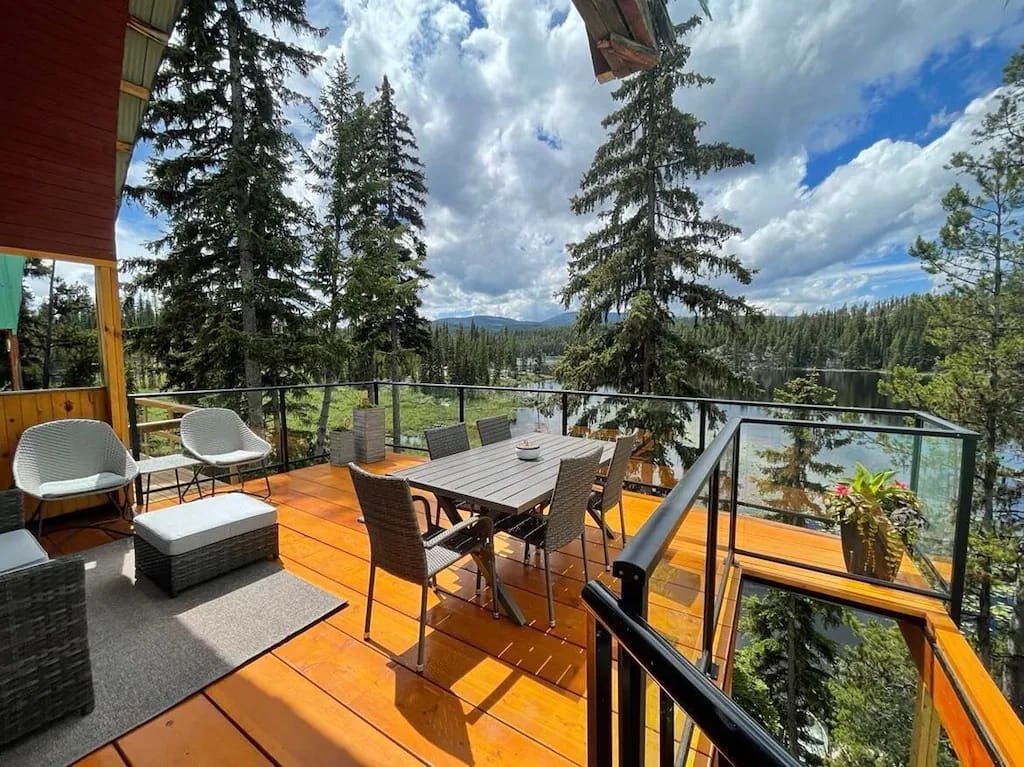 Everly's Hideout: A Luxurious Lakefront Cabin in the Wilderness
Everly's Hideout is a newly renovated and fully equipped cabin located in Idabel Lake Resort, a small community nestled in the wilderness of British Columbia. The cabin boasts stunning lake views from a large new deck with glass railings and comfortable patio furniture. With high-speed internet, the cabin is perfect for those who want to work remotely while enjoying the beautiful surroundings.
The cabin is just a 2-minute walk from the beach, dock, and playgrounds, making it an ideal destination for couples and families alike. In the winter, guests can enjoy snowmobiling, skating, and cross-country skiing on the frozen lake, while in the summer, they can hike in the mountains, mountain bike on nearby trails, or swim and kayak in the lake. Everly's Hideout is a perfect getaway from the city's hustle and bustle, offering tranquility and serenity all year round.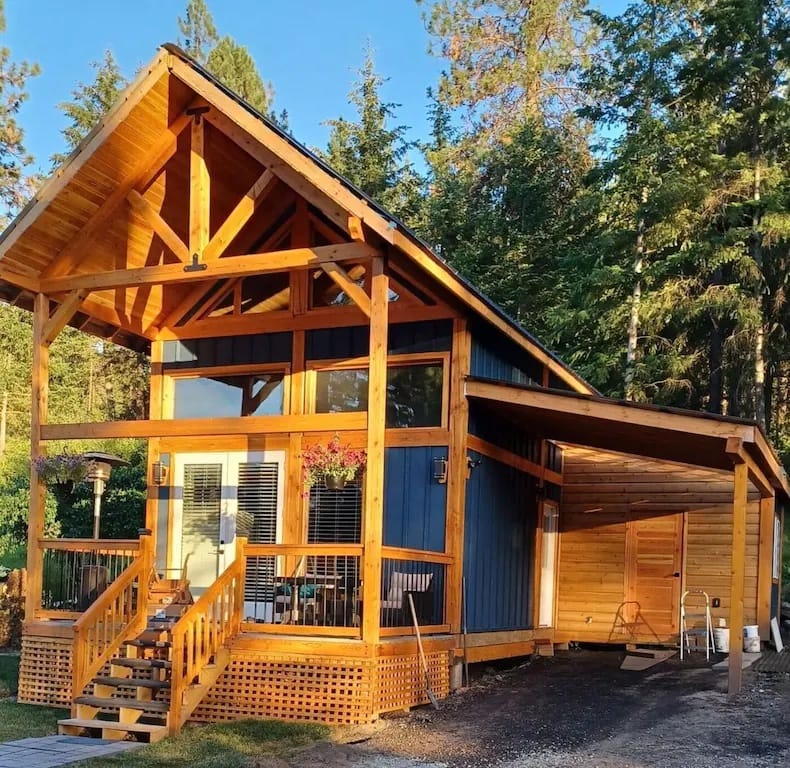 Cozy New Cabin with Countryside Views
Casa Azul is a charming new cabin situated on a shared five-acre property in Armstrong, located in the North Okanagan region. The cabin offers a peaceful retreat for guests, with a serene countryside setting and the soothing sounds of birds singing. The cabin boasts a spacious open-plan interior, featuring tall ceilings and large windows that fill the space with natural light. The brand new kitchen comes fully equipped, allowing for cozy nights in, while the living room features a pullout couch for extra guests. The open loft bedroom upstairs has a king-size bed, and the cabin offers shared access to a quiet hot tub. For an additional charge, guests can also use the sauna. The cabin's location is ideal for exploring the surrounding areas, with Vernon only a 30-minute drive away and the famous Caravan Farm Theatre and Farmstrong Cider both within easy reach.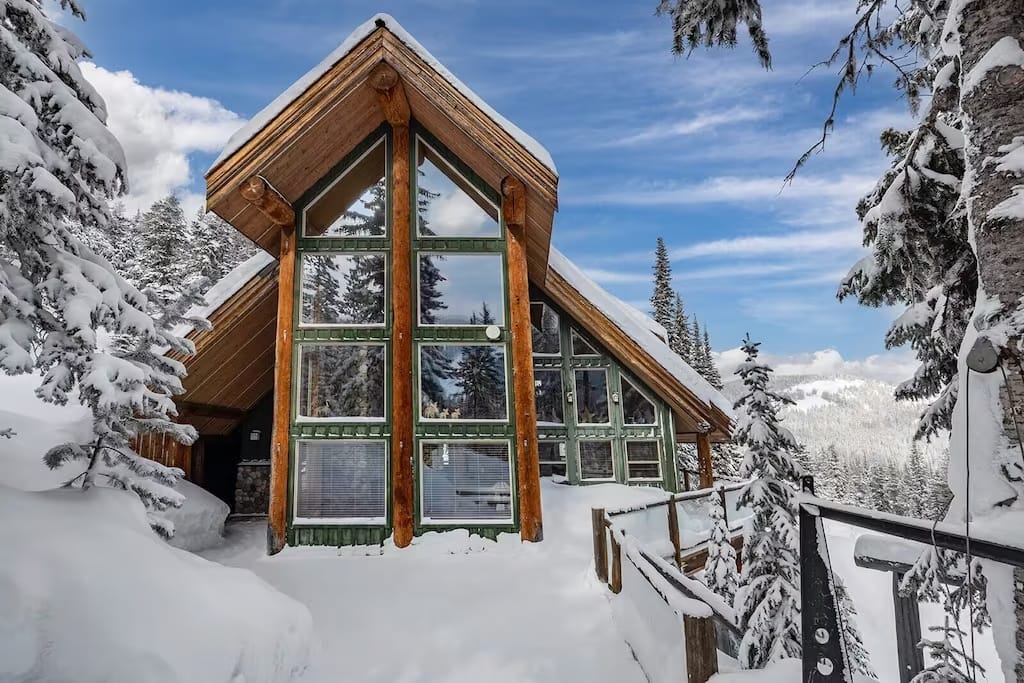 Juniper's Landing – Your Ideal Ski and Summer Vacation Cabin
Located on a private corner lot at Apex Mountain, Juniper's Landing is a unique ski cabin that offers the perfect space for your extended family visit or friends' gathering. The cabin is situated across from some of the hills most popular runs and features 7 bedrooms, 4+ bathrooms, and can sleep 21 guests comfortably.
The cabin's main room and games room are spacious, while the open kitchen and large dining room can accommodate up to 20 people. The impressive floating spiral staircase leads up to a theatre room, perfect for both kids and adults alike. The living space features a large fireplace, providing a cozy atmosphere while enjoying the stunning view of the mountain through the floor-to-ceiling windows.
One of the most striking features of the cabin is the 30ft ceilings and the beautiful Apex sunrises that you can enjoy while making your morning coffee. Juniper's Landing is the ideal place for your unforgettable ski or summer vacation.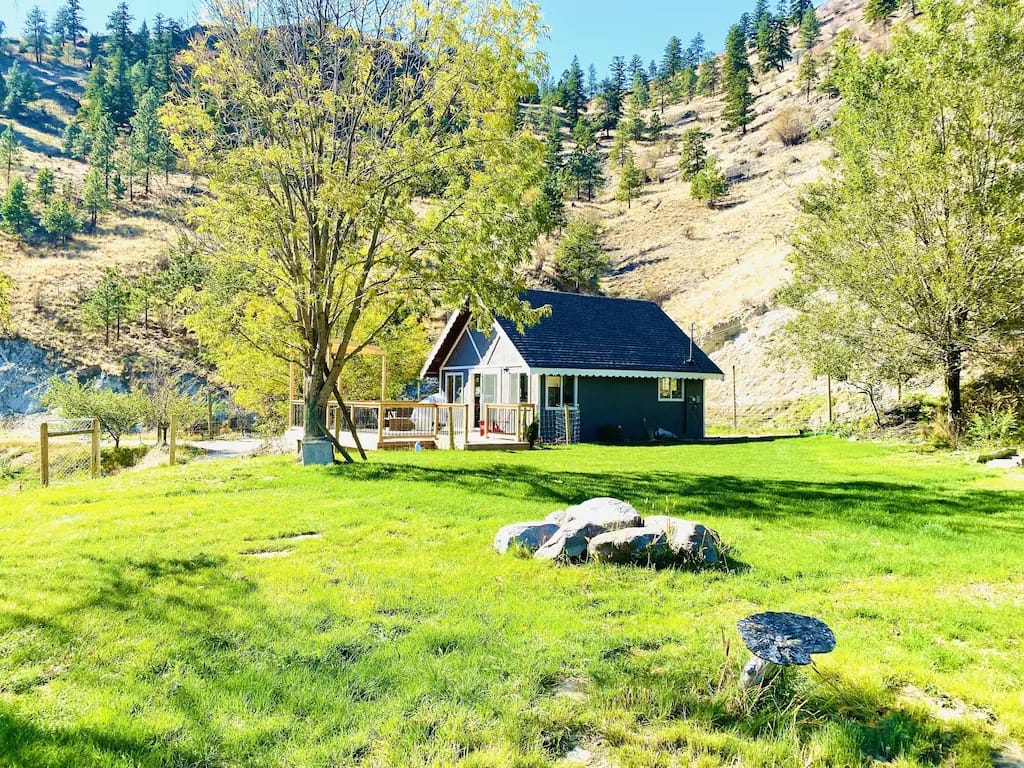 Renovated Pickers Cabin on 6-Acre Vineyard with Breathtaking Lake View
This self-contained cabin is nestled in the serene town of Kaleden and boasts stunning lake views from its 6-acre vineyard. The cabin is recently renovated and features a rustic charm, open and bright layout, and all the modern amenities you need for a comfortable stay. The garden area is fenced, making it perfect for families with children or pets. The cabin's rural setting offers peace and quiet, allowing you to unwind and enjoy the beautiful natural surroundings. Come and experience the tranquility of the lake country at this picturesque pet friendly cabin and enjoy a unique wine-country getaway.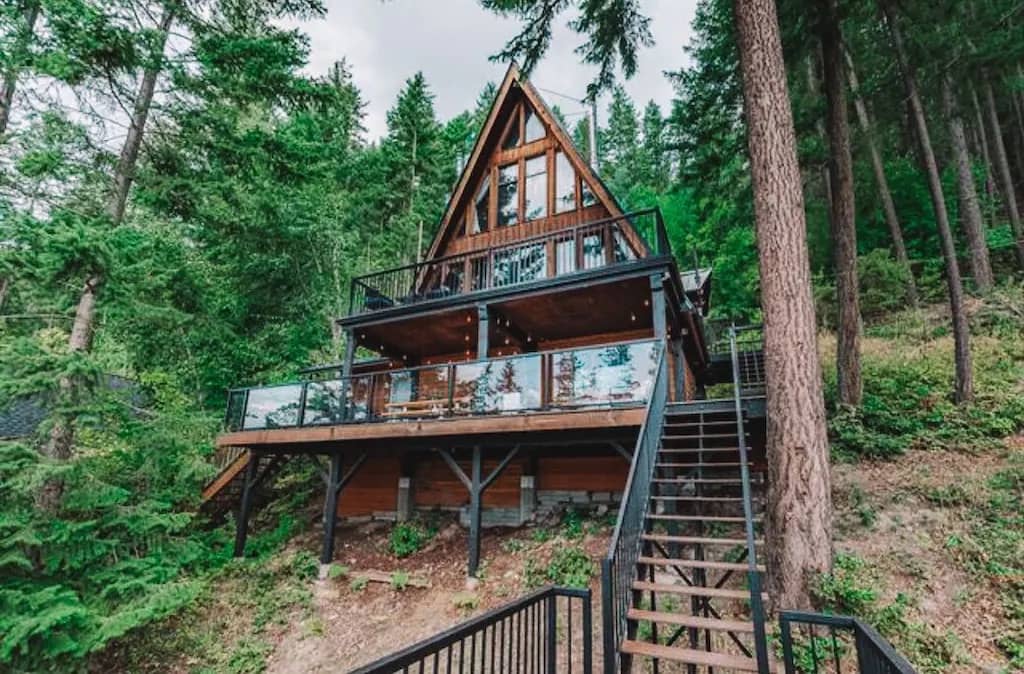 Bayside Estate – Cozy A-Frame Cabin near Shuswap Lake
Escape to the tranquil Bayside Estate, a classic 1970's cedar A-Frame cabin nestled among the trees, just a stone's throw from the Shuswap Lake. The cabin features two large decks with spectacular lake views, a beautiful loft with a wall of greenery, and semi-waterfront access to the lake across the road. Guests can enjoy a peaceful beach, a private buoy, and access to a private boat launch (upon request). The cabin also comes equipped with three inflatable paddle boards for those who want to explore the lake. During winter, the cabin is the perfect getaway for snowmobiling or sledding, with seven excellent sledding areas nearby. Relax, refresh, and unplug in this unique and cozy A-Frame cabin.
If you're looking for accommodation with the great lake view and facilities such as tennis courts, golf courts, swimming pool and beach access, you might want to consider our rental properties located next to the Lake Okanagan Resort. We have great reviews from our guests and always strive to offer the best experience. Check our popular Lakefront Cozy Cottage with Large Private Deck overlooking the lake.
Considerations To Make Before Booking a Cabin Rental
Before booking a cabin rental in the Okanagan, there are several important factors to consider.
First, determine your budget and the length of your stay. Some cabins may require a minimum stay, while others offer discounts for longer stays.
Next, consider the location of the cabin. Do you want to be close to outdoor activities like hiking and fishing, or do you prefer to be closer to town amenities?
Finally, think about the size and amenities of the cabin. Will it comfortably fit your group? Is there a fully equipped kitchen or other essential amenities like Wi-Fi and air conditioning?
Taking these factors into consideration will help you choose the perfect Okanagan cabin rental for your next adventure.
Tips On How To Make The Most Out Of Your Cabin Stay
When planning your cabin stay in the Okanagan, it's important to consider nearby attractions and activities that can enhance your experience. Depending on the location of your cabin, you may have access to hiking trails, water activities like swimming or fishing, or local wineries and breweries for tastings. Many cabins also offer amenities like BBQs, hot tubs, and fire pits for cozy evenings spent outdoors. Additionally, don't be afraid to ask your rental company or host for recommendations on local restaurants and shops to explore during your stay. With a little research and planning ahead of time, you can make the most out of your Okanagan cabin adventure.